FRUFC Under 13s Squad Page.....
Training:
Sundays 10.00 - 12.00

Matchdays:
Sundays - see fixtures

League Information


Fixtures Contact:
Marcus Brewer or Coach - See contacts page
Coaching, Management & Support Team.....
Primary Coach
Level:
Tel:
Email:

Jonathan Woodley
Level 1 RFU
0777 5872940
jonathan@woodleyhall.co.uk

Team manager
Tel:
Email:

Emma Henderson
07823 388439
donnybrook.525@btinternet.com
Squad Information.....
School Year 8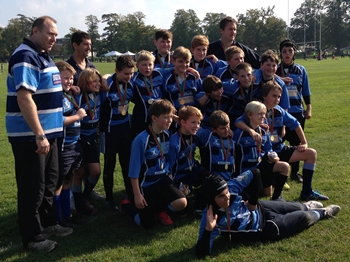 After a successful season in the Under 12's we now move up to the Under 13's, ready to continue another exciting season of contact rugby.
Our ethos is, and has always been, that we'll be there to help, encourage and support anyone who wishes to learn the game of Rugby. As always, much emphasis remains on inclusion, enjoyment and teamwork. Building confidence and ensuring all players understand that contact rugby is both safe and fun is key.
During the Under 13's we will be playing at various festivals, as well as home and away matches, against local clubs throughout the year. We also have a number of friendly matches/joint training scheduled throughout the season with other local teams.
Having successfully secured several sponsorship deals for next season our team 'Farnborough Flames' will be proudly sporting a brand new kit whilst supporting local businesses who believe in us, go team!
We are a very friendly and welcoming squad and would welcome new players of any ability; whether you have played before or are a complete novice you will be made to feel very welcome. Players can join us any time during the season.
We are very lucky to have a devoted team of qualified coaches and parent helpers within our age group who offer support, encouragement and motivation to all our players; we are a social bunch making Rugby training a joy rather than a chore!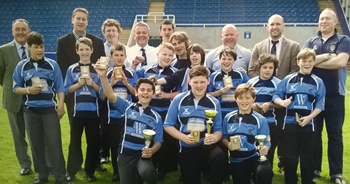 So if you are interested, please give us a call. As the first three sessions are free this gives everyone the opportunity to come along, have a go and see if it's for them. We train every Sunday from 10:00am to midday and every Wednesday from 6:45pm until 7:45pm. All our matches/festivals are on a Sunday.
The season starts on 4th September 2016. Please contact Head Coach Jonathan or Manager Emma before coming down for the first time.
A BIG Thank you to our sponsors:
| | | |
| --- | --- | --- |
| Team Sport | McKay Securities | Rosie Landscapes |
| | | |
| | | |
| | | |
| Whizz Marketing Services | Trent-Services | Kebur Garden Materials |
| | | |
| | | |