FRUFC Under 12s Squad Page.....
Training:
Sundays 10.00 - 12.00

Matchdays:
Sundays - see fixtures

Fixtures Contact:
Tracy Greenwood - see contact page
Coaching, Management & Support Team.....
Primary Coach
Level:
Tel:
Email:

Neil Timms
07901 670400
Level 1 RFU
timms.family1@tiscali.co.uk


Team manager
Tel:
Email:

Catherine White
07763 569192
catherine-white@live.co.uk

Assistant Coach
Level

Jon Basil
Level 1 RFU

Assistant Coach
Level

Kerry Bateman
Rugby Ready

Assistant Coach
Level

Andy Ford
Rugby Ready

Assistant Coach
Level

Mike Fiore
Level 1 RFU

Assistant Coach
Level

Graham Kingston
Rugby Ready


Assistant Coach
Level

Chris Martin
Rugby Ready

Assistant Coach
Level

Simon White
Level 1 RFU
Squad Information.....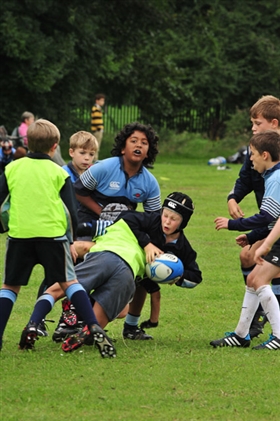 During the rugby season the Under 12s meet for coaching at FRFC, Tile Barn Close, Farnborough, on Sunday mornings from 10am through until 12pm. Two hours flies by each week. Some weeks we visit other local clubs for joint training and at regular intervals throughout the season we enter teams (Hurricanes and Phantoms) into tournaments. Details of our fixtures for the season, which starts on 6th September, can be found on this website (fixtures link above). For new joiners, please ring or email and check were going to be there before coming down.
Whilst we now have a squad of some 30 players, we are always keen to encourage new talent and new players are welcome throughout the season. Our squad is a mixture of players who have been with us since they were in Year R and a number who have joined us each year since.
2016-2107 Season
Again, there will be a number of new challenges for the players and coaches this year with the addition of hand-offs, 5 man contested scrums and unlimited numbers rucks and mauls into the rules at this age group. The guys are really looking forward to the introduction of these new elements of the game and the greater emphasis on positional play and tactics.
Our emphasis at the beginning of the season is on learning and developing these new skills rapidly and then focussing on building our teamwork and communication so that we are ready to compete in the tournaments we plan to participate in. This season we will see us continuing to focus the players into specific positions so we anticipate some strong competition for key roles.
As well as general fitness, agility, balance and co-ordination, we work on individual skills of:
Evasion - finding space, swerving, changing pace, avoiding the tackle;

Handling - passing and catching;

Tackling - positioning, awareness, execution, release;

Rucking, Mauling and Scrummaging - working as a team in contact situations;

Kicking - spot kicks and tactical kicks in open play.
and team skills of:
Attack - working together to move forward including passing, evasion and support;

Defence - keeping a defensive line, reforming a line, coordinating positions;

Tactics, strategy, decision making and communication.
We obviously focus on learning the rules of the game but rugby is also a great game for physical development, personal & social development and confidence building. We do focus on discipline, respect and fair play too - all of which are important elements of the modern game. Whilst we play quite a lot of rugby, and undertake training drills, we also play a variety of training games designed to practice skills whilst having fun.
Join In
If you are starting secondary school Year 7 in September 2016 and would like to give rugby a go we'd love to welcome you at training.
Safety and comfort are primary concerns so players will need a gum shield (mandatory for contact rugby), boots with suitable aluminium or plastic (not composite) studs (not blades), a drink and snack and appropriate clothes for the weather (no zips or hard buttons please). Please make sure you're happy for them to get muddy! For beginners, don't worry too much about having all the right kit - come along and see how you get on for a couple of weeks before splashing out.
If you are interested in assisting in coaching, please contact Neil for an informal chat about the U12s style of coaching and what we are looking for in a coaching assistant. Whilst we have a strong coaching team now, as we take on more elements of the game and more players, there will always be room for more coaches and we're always happy to have people willing to referee.
We are a team run entirely by volunteers so we would welcome help and support from parents in any capacity. There are always many things to do and this year will be a busy one from the off.
We are a very sociable group with lots of events for kids and parents throughout the season - last year saw us doing karate, strictly come dancing, a rugby camp and our second highly successful tour, with a group of 80 players and family members heading down to Weymouth for a great weekend.
This season we will be making full use of the refurbished bar in the clubhouse after training where we will be practicing our social skills, right and left arm muscular development, knitting our new kit under instruction from our expert ex-props and learning the Welsh national anthem. With all that on offer, how can you not join us?
Neil